PIPELINE
Pipeline 1: RSV vaccine
BC-PIV/RSV F potentially delivering prefusion conformation antigen F

BC-PIV/RSV F is an adroitly-inactivated vector but can potentially deliver prefusion F through structure-based design targeting both seronegative infants and elderly people.

Pipeline2: Ebola vaccine
BC-PIV/Ebola GP targeting GP protein.

BC-PIV/Ebola GP is an adroitly-inactivated vector and can have safety profile with point mutated GP blocking GP-mediated entry targeting infants through elderly people.

Pipeline3: Universal flu
BC-PIV/M2e with multiple M2e introduction profile

BC-PIV/M2e equips multiple forms of M2e antigen (23 a.a.) on vector envelope for potentially strengthening immunogenicity of M2e in human.

Vaccine Technology Background
BioComo Inc. has developed two vaccine carriers:
1.recombinant replication-deficient human parainfluenza type 2 virus (hPIV2) vector system
2.BC-PIV technology which is inactivated recombinant hPIV2 vector.

BC-PIV has strengths of free of antigen incorporation steps, more than 4 TAAs introduction, over 500 a.a. antigen available, cellular /humoral immune induction, etc.

Scope
BioComo focus on infection and immune-oncology

Infection
BC-PIV is vaccine carrier platform for infection with a range of viral epitopes such as small peptides, long peptides, full length envelope proteins with intact conformation, etc.
The obstacle of efficacious RSV and Ebola vaccine development stems from the difficulty associated to establish conformational meta-stability of epitopes. Especially, the RSV F antigen with prefusion conformation has been strongly required for potent neutralizing vaccine. BC-PIV can endow antigenicity through structure-based design of vaccine antigens and effectively elicit humoral immunity through intranasal and intramuscular injection. We have successfully developed BC-PIV and recombinant vectors with 6 variants of RSV prefusion F, 3 variants of Ebola GP and 3 variants of universal Flu vaccine, and are under optimization of the variants with Mie University (Japan) and Rockefeller University.

Immuno-oncology
BC-PIV also holds strong capabilities to induce cellular immunity through intradermal injection and has demonstrated strong effects to prevent tumor proliferation through various animal studies. BC-PIV with TAAs suppressed B16 tumor growth than or at the same with the anticancer drug 'dacarbazine' as one of feasibility study. We are developing BC-PIV with more than 4 tumor antigens and new treatment combining BC-PIV based cancer vaccines with immune check point inhibitors.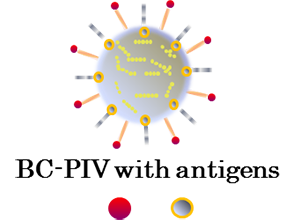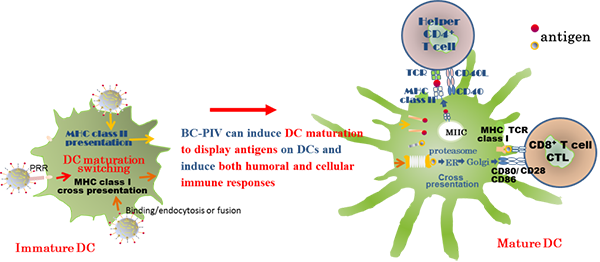 BioComo's Another Product: Novel adjuvant
A novel adjuvant candidate (BC-A (BioComo's Adjuvant)) with properties with water soluble and innate immune induction.